Fast UK cPanel Web Hosting
Discover why we are the among the fastest and most reliable cPanel web hosting companies in the UK. Who else offers you a 99-day money back guarantee? Nobody! Only we have the confidence to do so!*
Buying Cloud Web Hosting from us, you can have your website up in minutes. Hosting accounts are created immediately and our dedicated UK-based team are here to help you along the way. We can help you migrate your site from your existing provider or help you get started with a shiny new one.
And with cPanel, you get the familiarity of the industry leading control panel solution. We can help with restoring a full backup of your existing site from your existing provider too. Not familiar with cPanel? No worries, every part of the system has help to guide you on your way.
We are quickly becoming one of the most highly regarded website hosts in the UK for our performance, reliability and customer service. Join the hosting revolution now by choosing Redwax Cloud Hosting for your Website Hosting, one of the best web hosting companies in the UK. Get fast, get reliable, get Redwax hosting!
Our hosting platform is built on top of a self-healing Cloud Infrastructure. With every part of the hosting platform duplicated to ensure the reliability of the service, from processing and RAM, through to storage and power.
cPanel Web Hosting Packages
Class Leading cPanel Web Hosting Tools
Easy Wordpress Installation
Need Wordpress? No problem...install this with a single click from your control panel and keep it up to date.
One-Click Installs
(Softaculous)
Install over 350 popular web script in a single click, from Blogs, CMS, Shopping Carts, Forums, Helpdesks and much more.
Industry Standard
cPanel
cPanel has become the industry standard control panel for managing web hosting. Easily migrate from your existing host. Familiarity at your finger tips...find out more...
what is cPanel Web hosting?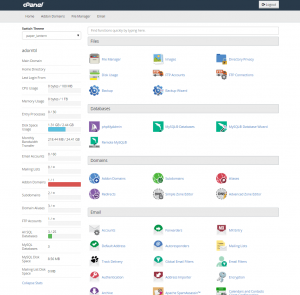 The cPanel control panel is the leading, industry standard web hosting control panel, providing a wide range of features to make managing your cPanel web hosting account a doddle. Once you have used cPanel, it is very hard to go back to proprietary control panels. What's more, the cPanel web hosting interface lets you take backups of your site for easy migration to other hosts who also use cPanel.
We also offer hundreds of website scripts available for easy click install, which includes Wordpress, Contao, OpenCart, Joomla, Conrete 5 and many many more. You can get website up and running fast, have it on fast hosting and have it backed up, by us free of charge.
100% Money Back Guarantee

Lots of companies promise reliable, fast website hosting. But, we are so confident in the performance of our cPanel hosting that we are the only company to offers you a 99-day money back guarantee?* No risk, no commitment, just solid, fast web hosting!
What Are Other People Are Saying?

Redwax provide a professional, efficient and very helpful service. We were having problems with our website and emails before switching to Redwax but are happy to say everything has been running smoothly since!
Mend Physio

I have been using Redwax since I set up my business over three years ago. I have found them very professional, approachable, friendly and always react promptly with any enquiry or question that I have. I have not had any problems and would not hesitate in recommending them to anyone looking for a reliable hosting company.
Rob, The Business Uni

Never had any issues, fast, relaible and great value for money too, its win/win! Both me and my wife have websites hosted here because its that good! You wont be disappointed.
Mark, Panel Perfect

I have been dealing with Redwax Cloud Hosting since there inseption, and have found them to be most professional in the way they approach there business, nothing is to much trouble and they always return calls. As a newcommer to Web sites I found them a joy to work with when they set up my Website,I would have no hesitation in recommending them to anyone, I have in fact passed there details on to a friend, good luck to them, although i don't think they will need it!.
Dave Elliott, Penny Black Stamps

Since taking hosting with these guys, we have had no issues whatsoever...what more can you ask!
Mark Abba, SGRM Insurance (Florida)

We were keen to ditch our previous hosts and Redwax Cloud Hosting were very helpful in tailoring a solution for us and taking over the process of migration back in 2013. They have always provided us with helpful and attentive support, connecting to our computers to help us where necessary...fantastic!
Kenta Inaba, Super Yacht Logistics (Japan)

Redwax provide a good hosting service. It works quietly and proficiently in the background, does what it says it will do and they are always available if there are any queries or questions. Great service.
Susan Lewis, S2M

This is one of those services where the better it is, the less you have to contact them! I haven't had any problems whatsoever but the support on setting up the account was very friendly and thorough and I'm very optimistic that help will always be there - should I ever need it. I haven't noticed any server downtime yet and it was great to see a comprehensive list of 'one-click' installations for the most commonly used web applications (in my case it was the phpBB bulletin board). Lovely to use a British company too!!
Neil, NNNS

We have been using this service for some time without any issues...brilliant!
Grace Zeilmann, Creation USA (Florida)

Redwax Cloud Hosting seamlessly switched from our old email server to the new hosted one without any disruption to our business. Since migration (approx. 12 months ago) it hasn't missed a beat and has enabled our business to enjoy endless email communications (both mobile and desktop), providing assurance regarding the safety of our data.
Mike Hopkins, Managing Director, Storm Geomatics

BAFI migrated its hosted email Exchange service to Redwax just over a year ago as it was experiencing unacceptable downtime from its current provider. Since then we have had no downtime and Alex and his team have always processed our requests for changes in our email accounts promptly and efficiently, whilst giving the support to new associates to enable them to get up and running quickly. We would have no hesitation in recommending them.
James Kydd, Partner, Business Angels Finance International LLP

I travel all over the world and Redwax Cloud Hosting have always provided me the help I need accessing my email.
Nigel Beatty, The Someya Group Limited (Hong Kong)

I needed to find an alternative hosting solution at short notice. I approached Redwax Cloud Hosting who, upon instruction, migrated the site with tremendous speed and efficiency. The team at Redwax keep me in the loop with hosting upgrades and the support service is extremely responsive.
Meriel Swain, Sweet Success Coaching

We have been using this service for several years now and when we have had issues, they have been resolved promptly by the support people...very helpful, very reliable!
Claire French, Fathom Supply Inc (Florida)

Redwax Cloud Hosting helped me to migrate two domains and a website from old hosting companies. The support, efficiency and price was great. They handled everything and nothing was too much trouble. Professional, friendly and great to deal with in an ongoing manner. I would happily recommend them …
Celia Broughton, Revolver Days Ltd.

Hosting from Redwax Cloud Hosting has been solid and consistent and the support team have always been helpful, respectful and friendly
Yukako Ogawa, Sunseeker Japan (Japan)